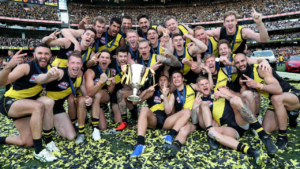 Amy Dawel has written a great article that describes the pitfalls of focusing on outcomes and results rather than purpose and values.  Her canvas is the journey of the Richmond Tigers who went from 13th in 2016 to premiers in 2017 and 2019.
To turn the club around, Richmond coach, Damien Hardwick stopped focusing on winning – an external reward which can lead to performance anxiety – and instead, focused on processes and values – the internal domains where people have far more control.  In this way, the players started to enjoy the journey and remembered their love for the game.  By rediscovering what the team's purpose was (and being aligned to that purpose) the players worried less about winning and, paradoxically, started winning.
Coach Hardwick's advice: It's about enjoying what we do and more importantly, who we are. It's about playing the game, and that's what we do best.
We have written about this in:
And just last week, I quoted Kim Cameron, whose research shows that 'money follows virtuousness'.  Put another way, those businesses who think that their purpose is to make money fare worse than those that set out to deliver on a mission and add value
Have you made the shift from profit to purpose?