R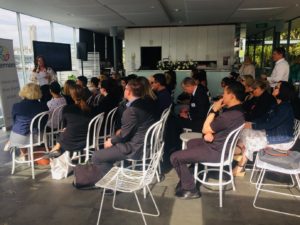 ecently, Gavin MacLaren, the CEO of Corrs Chambers Westgarth, said that the Firm would end daily billable hours targets and offer staff an additional week's annual leave. Both initiatives are about enhancing productivity rather than managing employee time, about allowing staff to determine their work patterns. "Ultimately, a supportive culture generates a diverse, engaged and high performing workforce," he said.
Just last week, we listened to the founders of Announcer, Annelise and Andrew Rocks, speak about how they have cultivated a vibrant, healthy and successful organisation and, along the way, be voted by AIA Vitality as Australia's Healthiest Employer for Australia 2017.
Announcer have used the HBDI Whole Brain Thinking approach to understand all stakeholder thinking preferences and in doing so have mitigated much of the frustration and stress that arises from regular miscommunication and misunderstandings.  More importantly employee and client satisfaction has increased, along with motivation, energy and the health of their relationships.
Using the HBDI Whole Brain Thinking approach to improve communication, collaboration and connection has had a real impact on employees' sense of empowerment, fulfillment and engagement.  Not only communication initiatives, Announcer has embedded Whole Brain Thinking into wellness programs and created initiatives that connect to peoples' deepest preferences, initiatives such as:
Staff can access a DEXA body scan twice a year
All staff must take a 2-hour lunch break (this is written into their contract)
Staff are encouraged to participate in the Announcer sponsored sports teams or partner gyms
Staff can participate in the Announcer Fitbit fitness community
Staff are encouraged to join the global AIA Vitality wellness incentive program that includes promotions and discounts for undertaking fitness and wellness activities
Staff (and their partners) can undertake the HBDI questionnaire and receive their HBDI profiles
Staff members are strongly encouraged to work from home one day per week
To greatly enhance collaboration and connection, staff share their HBDI profiles
Staff move desks every month so that they are working in close proximity to different colleagues and developing an understanding of what others do – their challenges and how they can assist one another. "Lots of great innovation has happened because of this" said Annelise Rocks.
According to Rocks, what "changed our lives and dramatically improved team work and productivity" is Slack, (cloud-based team collaboration tools) -great for feedback loops and general communication, especially across remote working teams and multiple communication channels.
Apart from spectacular growth, Announcer has also achieved 87% retention and, wait for it, zero divorces since taking this holistic approach to staff well-being.
For Announcer, it's all about managing employee energy instead of time.  As People At Their Best Principal, Dom Meli, says, "Time is finite but energy is infinite … we know that autonomy is a prerequisite for high engagement but most companies seek to control their employees by managing and measuring their time, even though it results in a drop in productivity and performance."
"Stress-related illness has been estimated to cost the Australian economy more than $14-billion a year and while many organisations talk about employee well-being, mental health is not something that many organisations put a lot of emphasis on – instead they focus on bio-health markers, physical fitness and nutrition" Meli said.
What organisations like Announcer know, is that there are quantifiable benefits of a holistic approach – as PWC found, there is a $2.30 return for every $1 spent on improving mental health and even greater ROI when whole teams are targeted with multiple initiatives.  As Meli says, "Time is the enemy of employee wellbeing and mental health is not just a social issue but a leading indicator of productivity in the workplace."
For tips on managing well-being see Dom Meli's article here: http://www.storm.sg/rebuild-mental-health-stress/and to find out how you can build resilience in your organisation or use the HBDI Whole Brain Thinking approach to improve real business results talk to us at People At Their Best.